Patola Silk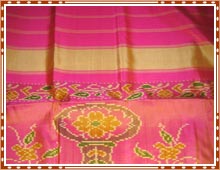 Patola silk is often termed as the queen of all silks. Patola sarees of Gujarat are one of the finest hand-woven sarees produced in India today. The place associated with Patola is Patan. Here, exquisite patterns are woven on sarees with great precision. Besides Patan, Surat is known for patola patterns on velvets. Patola silk has an exciting history. It was brought to Gujarat by the Salvi community of silk weavers from Maharashtra and Karnataka. It is said that these weavers arrived in Patan in the 12th century to make the most of the patronage of the Solanki Rajputs.
After the downfall of the Solanki dynasty, the Salvis were patronized by an affluent Gujarati merchant. Soon, the patola sarees became a status symbol with Gujarati girls and women. It became an integral part of the wedding ceremonies in the region. The art of weaving Patola sarees is the most complex and meticulous job in this world. The exquisite textiles designs of the fabric are unique and simply amazing. In Patan, the Patola is done in ikkat style. This is a tedious process, which takes days of hard work.
Each Patola fabric is lined with a number of twisted threads. There is also a single weft thread, which binds the twisted threads together. Each twisted thread is tied and dyed according to the pattern of the saree. It is done in a manner so that the knotted portions of the thread do not catch color. This adds to the vibrance of the colors of the fabric. Apart from this, this makes the sarees look alike from both the sides and can be worn either ways. This is a unique feature of the Patola sarees. The weaving of these exclusive pieces is done in the traditional handlooms.
The colors used in this process are dyes made from vegetable extracts and other natural colors. These colors are so fast that there is a popular Gujarati saying about the Patola sarees that "the Patola may tear, but the color will not fade". The average time taken in creating a Patola marvel is usually 4 to 6 months, depending on the complexity of the pattern and design. These affluent sarees are thus, priced accordingly. The specialty of Patan patola is fine intricate patterns and typical geometric designs, with soft hazy outlines. This is the natural effect produced by the technique.