Porbandar
| | |
| --- | --- |
| Location: | Porbandar District |
| Distance: | 412 km from Ahmedabad |
| Main Attraction: | Birthplace of Gandhiji |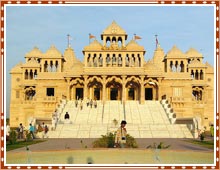 Porbandar is the administrative center of the Porbandar district of Gujarat and the birthplace of Mahatma Gandhi. It even finds mention in Skanda Puran as Sudamapuri and Ashmavati. According to Hindu mythology, Porbandar is the place associated with the friendship of Lord Krishna and Sudama. The present day city was established by Rana Sartanji in 1785 AD, who made it his capital. This confirms the fact that Porbandar was initially a fortified town of India. In 1888, under the orders of Colonel Lally, it lost its fortification.
The city is situated on the west coast of India and was therefore a major trade & travel center in the Mughal period. In 1531 AD, it was attacked by the Portuguese, to attain control over the sea trade of the region. In 1807 AD, the Walker Treaty of was signed between the ruling clans of Saurashtra and the British. It put an end to the conflict and helped in the development of the city. The most fascinating feature of Porbandar tourism comprises of the city's architecturally impressive buildings. The city is remarkably planned with stone structures and rich carvings.
It is dotted with numerous religious places and public buildings, overlooking the serene waters of the sea. This has made Porbandar one of the most sought after tourist destinations along the coast. There are a number of places in the city for the tourists to visit. These historic buildings stand as a reminder of the glorious bygone era. The port of the city was built in the 20th century and is regarded one of the important sea ports in the state.