| | |
| --- | --- |
| Calico Museum of Textiles | |
A brief sojourn to the
Calico Museum of Textiles
will most definitely be an enlightening experience for the anxious visitors as it acquaints them with the lavish textile heritage that India possesses. The
Calico Museum of Textiles
is truly in every respect, an honest and a humble tribute to the sheer craftsmanship capabilities of the Indian textile artisans who have manufactured scintillating textile products that have wowed the entire globe for several centuries now.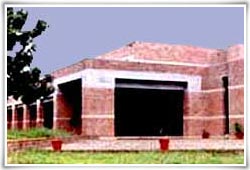 The
Calico Museum of Textiles
came into existence in 1949 and was the inspiration of Ms.Gira Sarabhai.
Main Attractions
The Calico Museum of Textiles exhibits two groups of 'pichhwais' first of which depicts scenes from sarada purnima, Govardhana, Dharana, Gopastami, Ramanavami and Nandamahotsava. The other group of Pichhwais deals with seasonal themes like 'grisma', 'varsa', 'sarada' etc.


The 'Parsvantha' built out of bronze belonging to 1235 AD., a sand-stone-replica of the 12th century AD, embodiment of Tirthankara Digambara, another bronze statuette of 'Dvitirthi' dated back to the 7th century.


Ancient holographs that are created on palm leaves belonging to the Jainas are carefully preserved here like the 'Kalpasutra' that was further divided into three parts - Jinacharita, Samachari and Sthaviravali.


Among other Jaina holograph that are displayed at the Calico Museum of Textiles in Gujarat are the Samgrahani Sutra and Patas that depicts their version of the universe and different phenomenons occurring in the cosmos.


Adhai Dvipi Pata, Jnana Baji Pata are really ancient piece of embroidery that are on exhibit in the Calico Museum of Textiles at Gujarat.


Apart from religious textile articles there are also some exquisite carpets that are speculated to have descended from the workshop conducted by the Great Mughal emperor, Akbar and have a taste of Persian skills.


Mughal war protection attires includes Helmets, chain mall, shields in the shape of a rhinoceros, swords, etc.


15th century Indian textiles associated with trade, silk weaving, 'patolas', patalu shawls, scarves, Sadi belonging to the 19th century, etc.